Outrigger Canoe Rides
Wa'a
Canoe (Wa'a)
Rides
Group or Private
Feel the history of Hawaii with a ride in a traditional Hawaiian outrigger Canone. We'll teach you the basics in Kamakahonu Cove and then we'll paddle into Kailua Bay where we will share some of the areas rich history and watch for the antics of the often present Hawaiian Spinner Dolphins.
Enjoy Kona's amazing waters and beautiful coastline in the tradition of the Hawaiians themselves.  Our guide/steersman will give you a beach-side orientation before we board the Wa'a and launch from the protected beach at Kamakahonu Bay.
As we paddle into Kailua Bay and explore the coastline we will share stories about some of the local landmarks, the rich history of the area, and the role of the wa'a in Hawaiian culture.  It's a great trip from the entire family so get in touch now to schedule your Wa'a ride.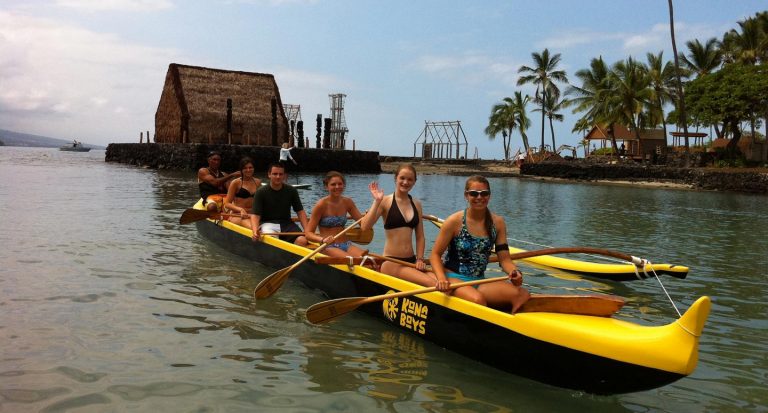 Whether you are staying at a hotel, in town for a while, or just landing for a few hours from the cruise ship, we can accommodate your time frame.
1 Hour Wa'a Rides – $49 / ride
1 Hour Wa'a Charters – $174, 6 people max