Snorkel
Rentals
Pristine Reefs
Kona's snorkeling is some of the best in the United States. We have snorkel rentals for all ages and sizes, from the first-timer to the experienced free-diver. We stock high-quality gear, and we also take the time to make sure it fits and that you know how to use it.
Boasting the most pristine coral reefs in the United States, snorkeling the Big Island's Kona Coast is a snorkeler's dream. Hundreds of species of reef fish have been identified along our leeward (kona) shores. Snorkeling Kealakekua Bay in front of Captain Cook's Monument is a fantastic experience for everyone blessed enough to enter the ocean at that historic, beautiful spot.
We love seeing our customers come back stoked out at the life, variety, clarity of the Big Island's "aquarium" waters and encounters with Hawaiian Spinner Dolphins. We also like to take the time to answer any questions you may have and point you toward some of our favorite spots.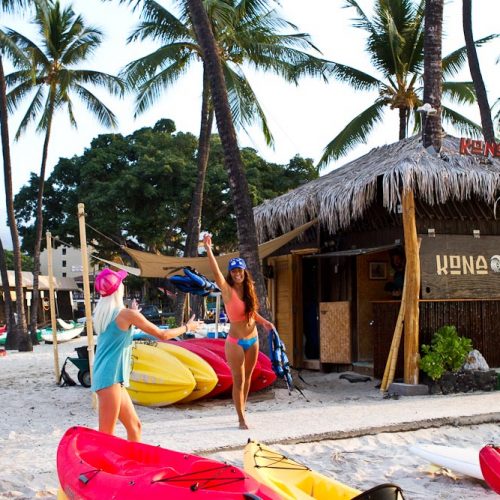 Beach
Rentals
Beach Day
Enjoy a picture perfect day at the beach at Kamakahonu Bay, in Front of King Kamehameha's Kona Beach Hotel. Kona Boys rents all sorts of beach gear including snorkel gear, beach umbrellas, chairs, and more.
It is an honor to be in this location as it sits adjacent to one of the most significant historical and cultural spots on the island, where King Kamehameha the Great lived and conducted matters of government until his passing on May 8, 1819.
Addtionally, King Kamehameha rebuilt the Ahu'ena Heiau at this location, a temple dedicated to Lono who was the Hawaiian God of peace, agriculture and prosperity. We hope that you'll drop in and check us out, rent a paddle board and explore the coast like the Hawaiians of years past. Or just rent a beach chair and umbrella and spend a day soaking up the sun and history at the magical Kamakahonu Bay.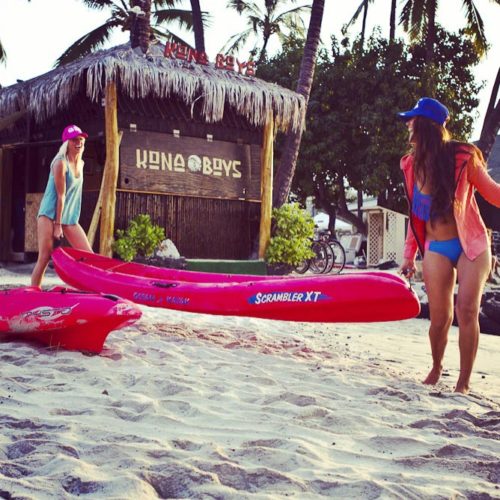 Hourly, Daily, or Weekly Rentals
– kayaks
– surfboards
– stand up paddle boards
– snorkel gear
– boogie board/view board: $9 day / $29 week
– paddle: $9 day / $29 week
– bikes: $19 two hours / $29 day
– dry bag: $6 day / $19 week
– beach chairs and umbrellas (single piece): $9 day / $39 week
– beach chairs and umbrellas (combo set): $29 day / $49 week